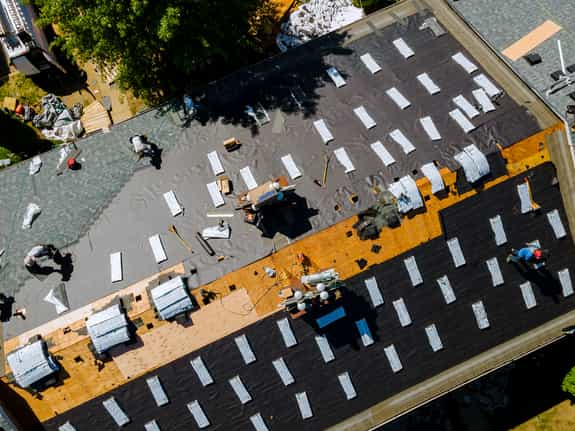 Residential Roofing
Serving Charleston, SC and the surrounding area
DON'T WAIT UNTIL THE FIRST LEAK APPEARS TO HAVE YOUR ROOF INSPECTED!
Most homeowners only think about their roof when there's a problem. But by then, it might be too late. Roofs should be inspected periodically to make sure they're in good condition and can protect your home from storms and extreme weather. Charleston Roofing can help you keep your home safe from the elements. We offer periodic inspections to make sure your roof is in good condition and can handle whatever nature throws its way.
Roof Inspection
THE FIRST STEPS TO FINDING YOUR ROOFING NEEDS IS AN INSPECTION
The process of having a roof inspection typically includes scheduling an appointment with a licensed, insured, and bonded contractor. During the inspection, experts will check various elements on both the interior and exterior of the roof, including shingles, vents, insulation, and more. After completing the inspection, they will provide recommendations for repairing or replacing any damaged areas. Additionally, they will help you understand the specific needs and requirements of your roof based on its material and style. Whether you need routine maintenance or emergency repairs, trusted experts like those at Charleston Roofing and Exteriors can help ensure that your roof is in good condition.
Roof Repair
Roof repair from the experts you can trust
Roof repair is a process that begins with scheduling an inspection. The cost of the inspection will depend on the size and style of your roof, but it is important to have one performed if you notice any water damage in your home. After the inspection, our team of experts will provide a report of their findings and recommendations for repairs. We will then work with you to schedule a time for the repairs to be made. Depending on the extent of the damage, repairs can take some time, but our team will work quickly and efficiently to get your roof back in working order.
Roof Replacement
PROTECT YOUR BIGGEST INVESTMENT WITH A NEW ROOF FROM CHARLESTON ROOFING.
If you think you might need a roof replacement, it's important to have a professional inspection to determine the extent of the damage. Charleston Roofing and Exteriors can provide a full inspection and report of our findings. If we recommend replacing your roof, we will work with you to choose the best material and schedule a convenient time for our team to do the job. Our contractors are licensed, insured, and bonded, so you can trust that we will work quickly and efficiently to get your new roof installed as soon as possible. Whether your roof has extensive damage or is more than 20 years old, Charleston Roofing and Exteriors is here to help.
Why us?
What you get when working with Charleston Roofing and Exteriors
A+ Rated with the BBB

Our expertise for insurance claims

We offer green products that minimize our environmental impact without sacrificing style

Compassionate expertise for every part of your home.
We guarantee your satisfaction.

We are always honest about our services and prices.

We offer no-interest financing

We offer a

10-year workmanship warranty.
CONTACT US TODAY FOR A FREE INSPECTION OF YOUR ROOF!
Find out what you need to consider building a search engine optimized website
AREAS WE SERVICE
If you're looking for personalized service from a knowledgeable exteriors company in your area, look no further!